MEDIA ADVISORY
Contact: Galaxy Magnesium Public Relations
310-374-6177
Galaxy@GoDriven360.com
GALAXY MAGNESIUM AND PANOZ RACING
LOOK TO FINISH THE 2020 SRO AMERICA SEASON ON TOP
Panoz Avezzano GT4s Took First During Race 1 in Austin
---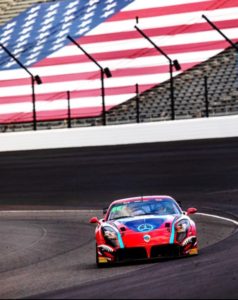 WHAT: Galaxy Magnesium – the world's premiere mine-to-customer source of superior quality and cost-effective magnesium – hits the track with Panoz Racing at the racing capital of the world this weekend (September 30 – October 3). Riding high off the team's first-place finish in Austin, Texas at the Circuit of the Americas track, Galaxy and Panoz Racing are excited to close out the season in winning style at Indianapolis Motor Speedway.
Galaxy Magnesium introduced the first phase of a magnesium-optimized, lightweight race car program in August, at Road America in Milwaukee. With each new race, more magnesium features are introduced into the Panoz vehicles, proving the lightness, strength, durability and versatility of magnesium, and demonstrating its potential in the next generation of automobiles.
Following up on the joint presentation with the SRO in Austin, Galaxy Motion — the new company formed by Panoz and Galaxy — will give a further shared briefing with SRO management on magnesium alloy technologies. The presentation, for the manufacturers, team leaders, owners, drivers and team members gathered at Indy, will feature special guest Stéphane Ratel, founder and CEO of the worldwide SRO Motorsports Group.
WHERE: Indianapolis Motor Speedway – Speedway, IN
WHEN: Wednesday, September 30 – Saturday, October 3
Team members from Galaxy Magnesium and Panoz Racing will be onsite at the track each day.
SprintX Race 1 kicks off on Thursday, October 1 at 5:05 pm. Central Time.
SprintX Race 2 roars into action on Friday, October 2 at 8:00 am. Central Time
MEDIA: Media are encouraged to email Galaxy@godriven360.com in order to arrange a media interview with executives and team members, or attend special events scheduled by Galaxy and SRO.
---
About Galaxy Magnesium
Galaxy is the world's premiere direct source of magnesium – superior in many ways to steel or aluminum alloys. Galaxy is streamlining global supply chains, offering custom alloys for unparalleled performance. From automotive, aerospace, energy and construction to pharmaceuticals, Galaxy Magnesium is paving the way to a lightweight future through lightweight, strong, versatile, durable and green magnesium. Join the #MagnesiumRevolution by visiting www.GalaxyMagnesium.com and following us on LinkedIn.
About Panoz Engineering and Panoz Racing
Panoz Engineering and Panoz Racing, based in Hoschton, Georgia, has been a Small Volume Auto Manufacturer and a prolific competitor in motorsports for more than 25 years. As a manufacturer, Panoz sports cars led a wave of innovation in vehicle lightweighting, focused on modular aluminum-intensive vehicles. The current effort with the SRO will be another game changer, as Panoz applies its deep experience with aluminum to magnesium alloys. Panoz and Galaxy will execute the racing program with a transparent protocol: sharing magnesium alloy material and manufacturing technologies openly as a platform for vehicle lightweighting.
business inquiries: business@galaxymagnesium.com, 323-422-9602
event, press, interview inquiries: galaxy@godriven360.com or 314-568-8614