Briefing on the meeting 
of the
Yulin Commercial Conference (Xi'an)
Economic and Trade Cooperation Fair
May 13, 2019
The Yulin Commercial Conference (Xi'an) Economic and Trade Cooperation Fair was one of two sessions in the recent Silk Road Fair.
The Fair concluded on May 13, 2019, co-sponsored by the Yulin Municipal Bureau of Commerce, the Municipal Federation of Industry and Commerce, and the Municipal Government of Xi'an.
The purpose of the conference was to use the platform of the Silk Road Expo to intensify the association between the Yulin Chamber of Commerce and the entrepreneurs of Yulin, to share their deep feelings about their hometown and business investment there, and to promote economic development strategy, resource advantages, the industrial base, and support major new projects.
Preferential policies to stimulate the business environment are intended to help both upstream and downstream industrial supply chains to connect, to enhance the degree of international economic development, and to promote the high-quality development of Yulin's economy.
On May 12, the Galaxy Xinghe Trade and Technology Company signed a strategic cooperation agreement with the new industrial park in Yulin, known as Yulin High-tech Zone.
After the meeting, the Secretary of the Municipal Party Committee of Yulin City, Dai Zhengshe, met with senior executives of the company, including Dong Yuming, to receive a briefing about the company's recent progress. He instructed several departments, including the Ministry of Commerce, to take the lead in strengthening the international business capabilities of Yulin, and to track new developments.
This was the 13th Economic and Trade Cooperation Fair. Mr. Dong, the general manager of Galaxy, recommended the magnesium export and target positioning project and proposed four goals, following eight paths. The leaders and companies present were all highly supportive.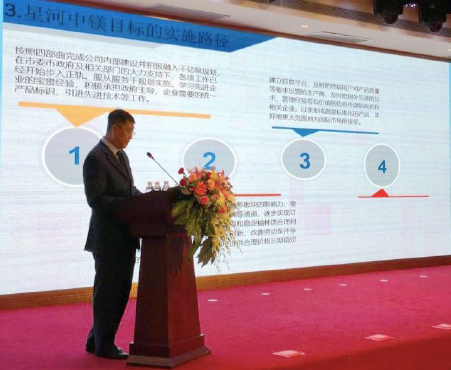 Mr. Dong Yuming, General Manager, recommended the project
Mr. Dong also proposed the vision of the Galaxy magnesium project: "Let Yulin magnesium be known throughout the world, and let the world come to know Yulin." The conference concluded with applause from the whole audience. Dai Zhengshe also confirmed the award of a license to the Galaxy company.
The final part of the conference featured another signing ceremony — General Manager Mr. Dong Yuming and Qiu Ruimin, representative of Yulin Magnesium and Magnesium Alloy Technology Innovation Co., Ltd. signed a strategic cooperation agreement covering the introduction of new products and manufacturing technologies, increasing productivity and profit margins, adopting modern production methods, eliminating unneeded trade links, opening up new market channels and streamlining distribution.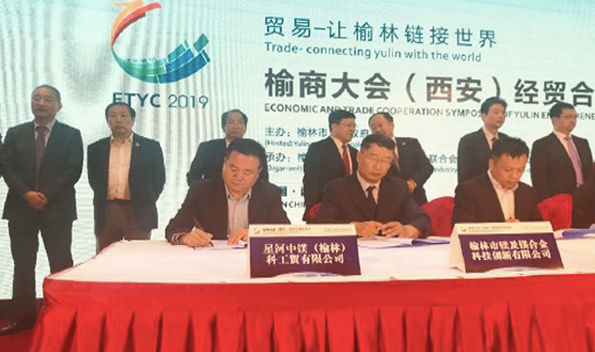 Signing ceremony
The Trade Cooperation Fair concluded, with the determination that our company will continue to grow and develop in the coming year, and strive for the vision:
"Let Yulin magnesium be known throughout the world, 
and let the world come to know Yulin."