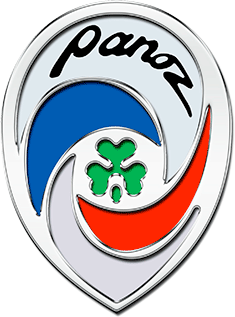 Panoz Engineering is a world-leading independent automobile design and production firm, with a record of innovation that began in 1990.
The most visible expression of Panoz creativity and excellence can be appreciated in the most difficult mission for an automobile: high-performance professional auto racing against competing vehicles, teams and cars. Driving against globally-respected names like Porsche, Audi, BMW, Ferrari, Ford, GM, Nissan, Toyota and many others, Panoz has excelled. Despite its modest size (or perhaps because of it), the Panoz team consistently wins major races around the world.
Executives from Panoz Engineering and Galaxy Trade & Technology first met in early November 2019, as speakers at an industry conference in Atlanta. They are now developing plans to utilize magnesium alloys in competitive cars, in conventional vehicles and a new generation of electric vehicles. Magnesium can selectively replace conventional materials such as aluminum and steel alloys, formed plastic and carbon composites, and Panoz has the design science to determine how to do it.
Magnesium is one of the keys to building lighter, more energy-efficient vehicles without compromising strength and durability. More than twenty years ago, Panoz pioneered the introduction of aluminum alloys in automobiles, and is now positioned — with Galaxy's high-volume, high-quality, controlled-cost magnesium alloys — to lead the way again, with magnesium-intensive, energy-efficient electric vehicles.
Some videos here put images and sound to the Panoz design and engineering theme.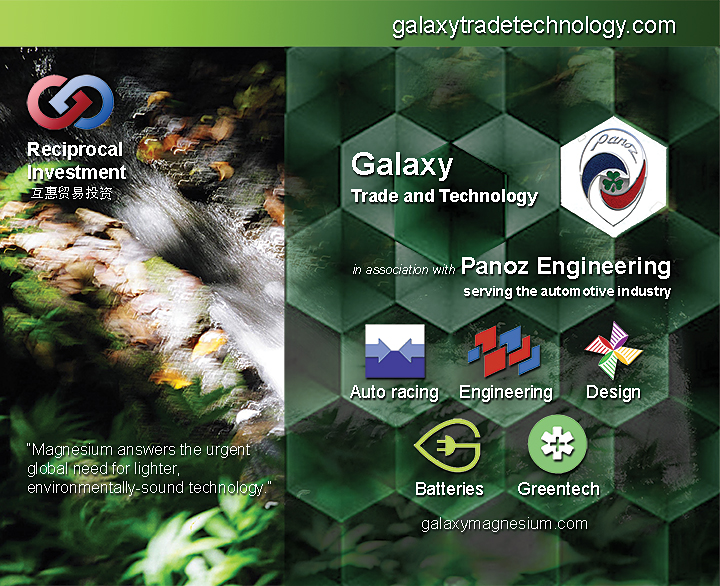 More at panoz.com
---
---
The Avezzano is a world champion race car, designed and driven by the team from Panoz Engineering. It is shown here winning on the track at Mosport International Raceway, near Toronto, Canada.
---
Champion race car driver Ian James presents the Panoz Avezzano, and takes a look inside. At the Mid-Ohio race track.
---
---
The Panoz Engineering Team, led by driver Ian James, had second pole position in the first Sprint race at Sonoma in 2019, out of a 30-car field competing with McLaren, Audi, BMW, Porsche, Ford, Chevrolet.
You can see Ian getting in the Panoz Avezzano, at about the 40-second mark of this clip.
At the finish line, Panoz was .3 seconds behind the winner, McLaren — on the way to a full-season championship win for Ian James and Panoz.
---
For 21 years, Jay Leno was the host of the top-ranked national American network television evening program, "The Tonight Show." One of Leno's pursuits today is collecting classic cars. In this interview, part of the "Jay's Garage" series, he visits with Don Panoz, co-founder of Panoz Engineering, talks about what it takes to design and finance race cars, and gets into detail about the Panoz Spyder sports car. Jay Leno takes the car for a spin on the roads of Southern California.
---
A tour of the Panoz Design and Assembly facility, in Braselton Georgia. Founder Dan Panoz walks through the assembly facility he developed to efficiently manufacture high-performance vehicles — both world-class racing cars, and the elegant popular sports sedan, the Esperante. He talks about the overall modular approach, frame design, extrusion techniques, crush zones, interior finishing crafts, SPF body panels, final finishing. Then Dan and the feature journalist, Barry Meguiar, go on a test drive.
---
Inside the Panoz race car with Ian James, taking a practice run at Lime Rock Park, Connecticut.
---
A look at the beginnings, early history and the world championships won by the Panoz Engineering team.
---
An interview with Don Panoz, who worked closely with his son Dan Panoz to develop a world championship eningeering, design and racing team. Don recounts a key episode in the growth of Panoz Engineering: the 1998 introduction of the first hybrid competitive race car. At the time, the concept of combining internal combustion engine and an electric engine was very new, and the automotive industry was skeptical. Today, with the wide adoption of hybrid and pure electric vehicles worldwide, the early vision of Panoz has been proven.
---
Experience Panoz' famous prize-winning race car, on the track, behind the wheel.
---
A racing enthusiast takes the luxury Esperante for a spin on the roads of rural Georgia, near the Panoz Engineering headquarters in Braselton.
---
A musical stroll through the main showroom at Panoz, in Braselton, north-Central Georgia. On display — sleek, graceful models of the Abruzzi, Avezzano and Esperante vehicles, designed and built by Panoz in a nearby facility. The race-winning Esperante vehicle, with fierce "Flying Tiger" markings, sponsored by Galaxy Trade and Technology for the 2020 SRO America Tour, is highlighted last.